Polarized Single Acting Solenoids
Type G BK P 017
Regarding size, design type and dimensions, the single-acting solenoid type G BK P 017 is equivalent to type G BK K 017.
It has a bistable function, i.e. two stable de-energised stroke end positions. The permanent magnet required for the bistable function causes an increased holding force.
Bistable solenoids are controlled with a short electrical pulse, thus temperature rise and energy consumption remain at a low level.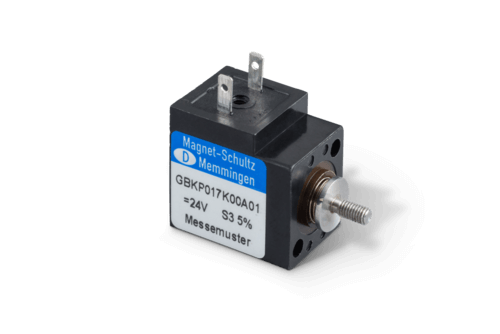 Size: 17 mm
Stroke: 3 mm
Magnetic force: 1 N up to 2 N
Permanent holding force: 2 N up to 3 N
Nearly horizontal magnetic force vs. stroke characteristic
Pull and push types
Function: bistable solenoid
Electrical connection via plug connector according to DIN EN 175301-803 design CI 9.4 mm
Fastening with two bore holes in the magnetic body
Protection class: IP20
Voltage type: direct current, DC