Single Acting Solenoids
Type G BK K 017
The DC single acting solenoid type G BK K 017 is a miniature solenoid with an encapsulated magnetic housing.
The installed return spring holds the armature in the stroke start position and returns it there after energisation.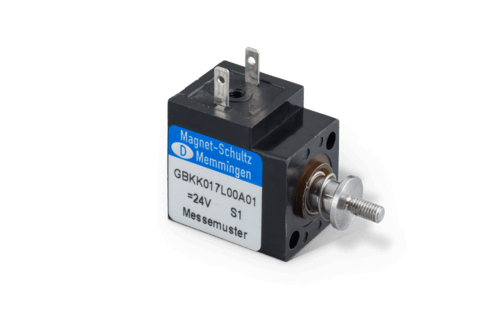 Size: 17 mm
Stroke: 2.5 mm
Magnetic force: 1 N
Nearly horizontal magnetic force vs. stroke characteristic
Pull or push types
Function: single-acting solenoid with installed return spring
Electrical connection via plug connector according to DIN EN 175301-803 design CI 9.4 mm
Fastening via two bore holes in the magnetic body
Protection class: IP20
Voltage type: direct current, DC
For applications with a special focus on energy efficiency, a polarised bistable version of this device type G BK P 017 is available.