Hydrogen is said to be the energy source of the future, already today it is used as fuel for vehicles driven by fuel cells. Here, hydrogen is stored either cryogenically in liquid (LH2, Liquid H2) or compressed form, under high pressure at 350 bar and/or 700 bar (CGH2 Compressed Gaseous Hydrogen). Due to its extreme diffusion and reaction ability, hydrogen makes particularly extensive demands on pressure-bearing components of this technology.
The components necessary for fuel cell drives, such as tank, security and pressure regulating valves must be, above all, pressure-resistent and "water-proof". Requirements on the functional safety of the single components have a particularly high significance when it comes to development and layout. In order to prove these characteristics during development phase as well as in later series production, a reliable test technology adopts a key role.
Magnet-Schultz is convinced of the sustainability of hydrogen technology and prioritized this ambitious application field as strategically important business area.
Modern simulation and development tools assist here very much, however, it is indispensable to test the real devices during the progressing development stadium. In order to boost the development performance within the range of hydrogen sustainably, substantial investment in testing equipment has been released.
Currently available test systems fulfil all requirements to comply with all test requirements on innovative valves and valve modules for fuel cell vehicles in our own company. Here, particularly switching function and stability, leakage tests as well as proof of life cycle strength are included.
In cooperation with Maximator GmbH from Nordhausen, high internal requirements on test bench with regard to testing procedures and mechanical implementation were put into practice. After just under one and a half years of planning and construction time, the result is impressive.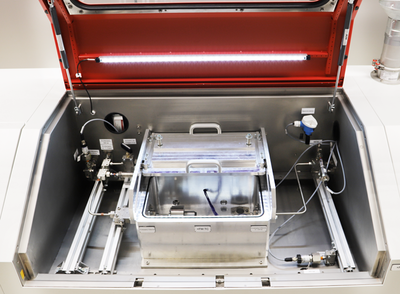 Operation range test bench with integrated test chamber
With the new test bench for our hydrogen valves, gas pressures for tests up to 1200 bar are available. An integrated test chamber with first-class test quality makes it possible to determine the adherence to high requirements on leakage. A 100l pressure storage, construed for 1200 bar as well, is the precondition that functional life cycle tests can be conducted with very high flow rates.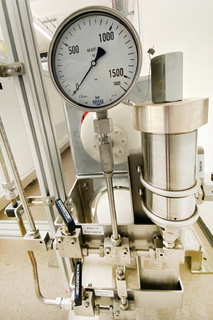 High pressure storage
In addition to testing switching valves, the powerful configuration of the test bench allows for intensive tests of proportional quantity regulating valves without the test stand to lose "air". Using high-quality pressure and back pressure regulators secures constant testing conditions.
The test bench can either be operated by using the test media nitrogen, helium and forming gas (contains 5% hydrogen)..
If necessary, high-pressure testing can be conducted under oscillation, temperature and climate impact.
In the current stage of expansion, our internal testing opportunities exceed acknowledged labs' scope of possibilities in the field of hydrogen technology.