Shotbolt Lock Units
Type G SC X … B01
The shotbolt lock unit G SC X … B01 is the consistent further development of type G SC X in relation to maximum performance and cost efficiency.
Significant differences to version G SC X are:
The solenoid body is firmly connected to the solenoid drive, rotation or replacement of the coil is not possible.
The protection class for the entire device is IP40, as no sealing of the armature rod is provided. Sealing and higher protection classes on request.
The device has a protective conductor connection, therefore rated voltages up to 250 VDC are possible.
The compact construction allows higher admissible lateral forces.
At present, there are no explosion-proof versions in planning.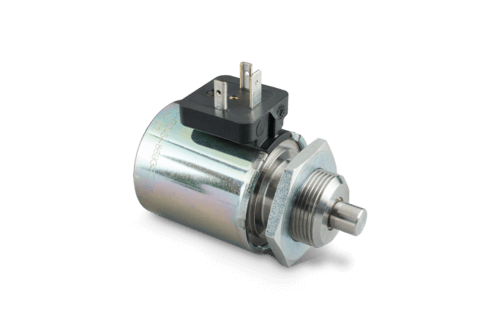 Sizes (Ø): 37 mm, 45 mm, 63 mm
Stroke: 8 mm, 10 mm, 12 mm
Magnetic force (N): 8.5 N – 33 N
Admissible lateral force in normal position: 750 N – 3000 N
Pull or push types
Versions with end position sensing via limit switch
Function: single acting solenoid with installed return spring
Electrical connection via plug connector according to DIN EN 175301-803
Fastening via central thread
Protection class: IP40
Voltage type: direct current, DC
Options: further electrical connections
CAD-3D-Model Shotbolt Locking Unit G SC X