Proportional solenoids
type F HM G + F HT P
The actuators for proportional valves type F HM G + F HT P (previous designation G RC Y) are designed according to the modular principle and consist of a magnet body type F HM G and a tube type F HT P. The data sheet shows the construction method and exemplary technical data on the basis of exemplary designs. The grading of the sizes is matched to the actuation of valves of nominal sizes NG4, NG6 and NG10.
The solenoid body is fixed with a fastening nut on the tube and can be removed or replaced without opening the hydraulic circuit.
The modular design makes it possible to combine the tube also with a solenoid body type F MM E, which has approvals according to ATEX and IECEx for operation in potentially explosive atmospheres. Please refer to the data sheet of the devices F MM E + F HT P.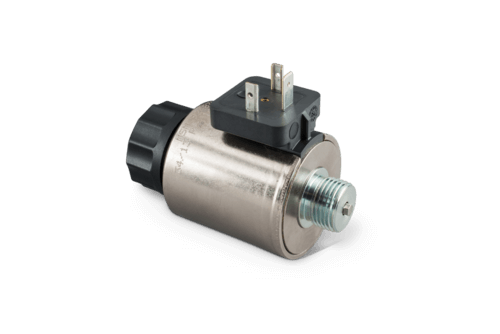 Sizes (Ø): 37 mm, 45 mm, 63 mm
Nominal working pressure: 210 / 250 bar
Overall stroke: 4 mm - 8 mm
Working stroke: 2 mm – 4 mm
Rated magnetic force: 47 N – 112 N
Considerable proportionality between force and current
Small hysteresis through precise bearing of the armature
Horizontal magnetic force vs. stroke characteristic within control range
Push type
Manual override
Electrical connection via various plugs
Fastening via central thread
Protection class: depending on connector type up to IPX9K
Voltage type: direct current, DC
Options:
Power variants, deviating ambient and reference temperatures, further plug shapes as well as variants with cable , explosion-proof versions according to ATEX/IECEx, integrated diode for damping the cut-off overvoltage, versions with transducer