ON/OFF Rotary Solenoids
Type G DA
The DC rotary solenoid GDA converts the linear magnetic force to a rotary movement. The axial component of the magnetic force is supported via the installed armature bearing of the solenoid.
During the rotary movement, no linear movement is performed.
ON/OFF rotary solenoids turn the drive shaft in the end position, when supply voltage is applied. Due to the increasing torque characteristic, no control of magnetic force or rotation angle is possible.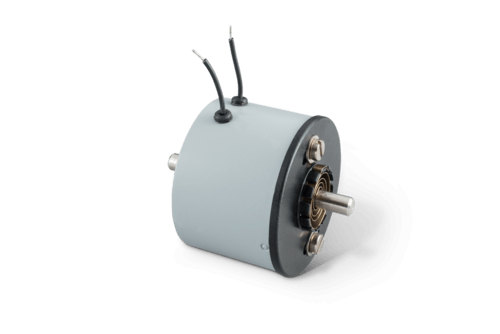 Sizes (Ø): 25 mm, 35 mm, 50 mm, 60 mm, 75 mm
Rotation angles: 95°, 65°, 35°
Torque: 0.16 Ncm – 195 Ncm
Clockwise and anti-clockwise versions through shaft protruding on both sides
With and without return spring
Electrical connection via free flexible lead ends
Fastening via tapped holes at the end faces
Protection class: IP20
Voltage type: direct current, DC
For applications in which torque and possibly rotation angle of a drive shall be controlled we refer to our devices type G DR