Proportional Rotary Solenoids
Type G DR
Unlike the ON/OFF rotary solenoids G DA and G DC, the proportional rotary solenoid G DR works to an electrodynamic operating principle, featuring proportional relation between torque and current as well as a constant torque over the entire operating range. Therefore, by using an appropriate control and a rotation angle sensor, it is possible to realise force and position controlled actuators.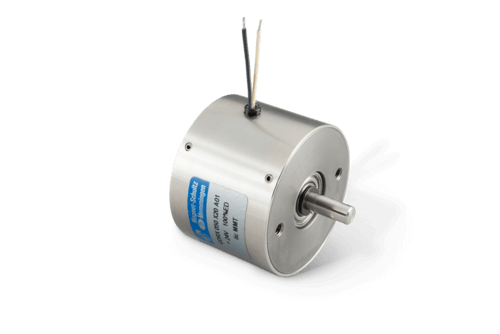 Sizes (Ø): 35 mm, 50 mm, 75 mm
Rotation angle: 110°
Torque: 2.1 Ncm – 85 Ncm
Reversal of the direction of rotation by reversing the polarity of the supply voltage
Electrical connection via free flexible lead ends
Fastening via tapped holes at the end faces
Versions with attached rotation angle sensor to the measuring principle hall sensor
Protection class: IP20
Voltage type: direct current, DC
Option: versions with programmable hall sensor, flange option of a return spring
Naturally, the rotary solenoid G DR may be also applied as ON/OFF solenoid. If the direction of rotation cannot be reversed by polarity reversal, a return spring can be flangemounted in analogy to type G DA.