Single Acting Solenoids
Type G TC A
The DC single acting solenoid type G TC A is a device with a well-proven and robust design for larger strokes. This device is available in various designs in terms of flange mounting, electrical connections and protection classes.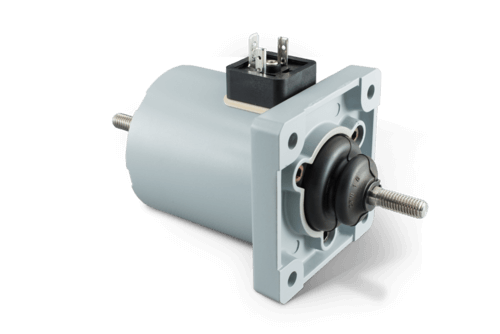 Sizes (Ø): 40 mm, 50 mm, 60 mm, 70 mm, 80 mm, 90 mm, 100 mm
Stroke: 8 mm up to 30 mm
Magnetic force (N): 6 N – 370 N
Increasing force vs. stroke characteristic
Pull or push type, depending on mounting
Electrical connection via free flexible lead ends or via connector according to DIN EN 175301-803, depending on version
Fastening via flange or three tapped holes, depending on version
Protection class: with free flexible lead ends IP00, with connector IP54
Voltage type: direct current, DC
Options: delivery with and without flange, horizontal force vs. stroke characteristic on request
The applicability of the accessories has to be verified within the limits of the technical properties of device and accessory.
For devices with explosion protection for gas and dust according to ATEX and IECEx see type G TC E
CAD-3D-Model Linear Solenoid Unit G TC A